Pop Culture, Counter-Culture & CyberCulture
COLLECTIBLES & COOLSTUFF
Offered for sale On eBay™ by herman7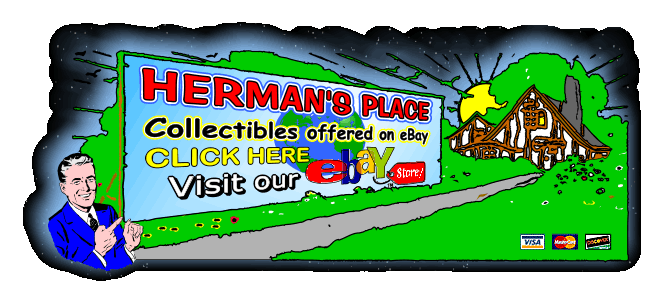 What's in our eBay™ store's Auction & Fixed-Price inventory?
An ever-changing selection of these types of collectibles...
COMICS • COMIX • MAGAZINES • BOOKS • POSTERS • TRADING CARDS
GAMES • TOYS • SOFTWARE • ADVERTISING & PROMOTIONAL ITEMS
PLUS, a broad selection of BCW®
COLLECTION PROTECTION SUPPLIES
Bags • Backing Boards • Resealable Bags • Extenders • Mylar® • TopLoads
Sleeves • 3-Ring Binders • 3-Ring Pages • Boxes • Houses • Plastic Boxes
PROTECTION • DISPLAY • STORAGE • ORGANIZATION • ACCESSIBILITY
for your comics, magazines, trading cards, books, newspapers, record albums, photos,
currency, certificates, documents, tickets, postcards, posters, prints, and pennants.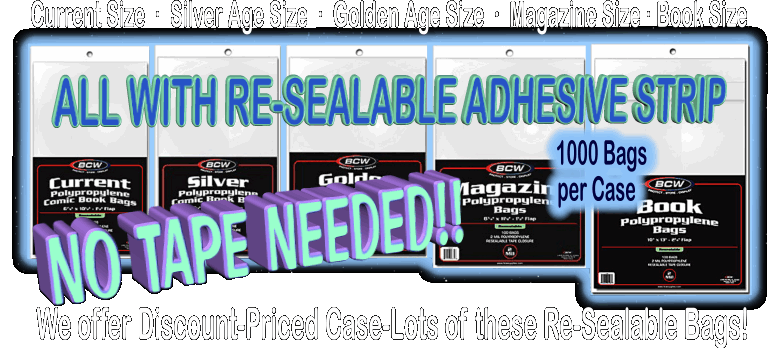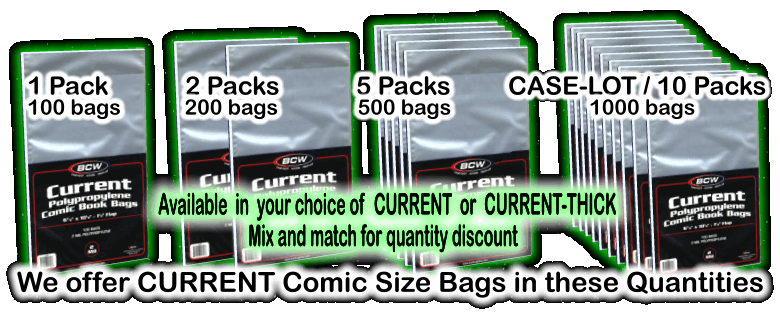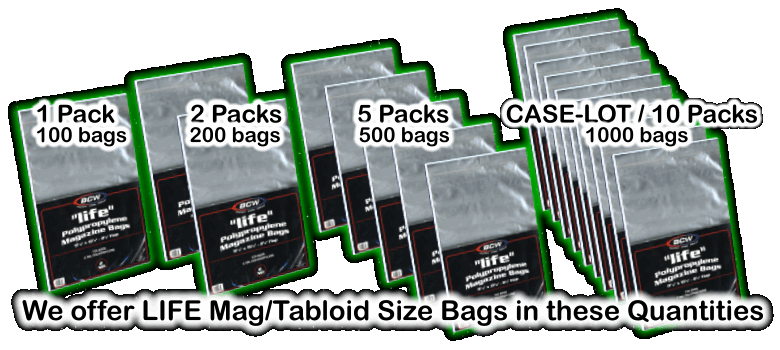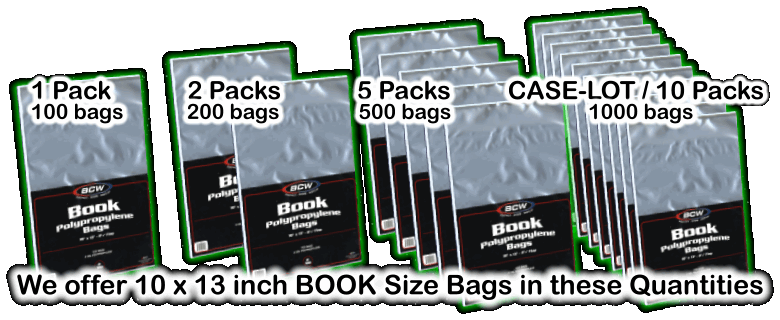 In addition to the linked banners above,
and the links in our item descriptions,
use our store's Search Engine and Custom Categories
to make your shopping more focused and convenient.
NOTE: The navigation column on a search-results page
will only show categories and item-counts for that search term.
Our home page and Custom Category page navigation columns
show categories and item-counts for our complete inventory.

We ship WORLDWIDE via The USPS® & it's international affiliates.*

Buyer pays a S&H fee based on

Destination

&

Choice of Method

, as specified in each item's description.

*Except, Case-Lot Collection Protection Supplies ship via UPS®.

For these Case-Lots, your address must be UPS-deliverable (no PO Boxes).

Destination: USA...***NOTE: This item could qualify for FREE S&H!! See Below***
STANDARD S&H Ships within 1 business day via FIRST CLASS PACKAGE SERVICE®,
--or-- PRIORITY S&H Ships within 1 business day via PRIORITY MAIL® (2-3 days).
The USA S&H fee includes DELIVERY CONFIRMATION with an online tracking number for your package.



Destination: CANADA*...
STANDARD S&H - Ships within 1 business day via FIRST-CLASS PACKAGE INTERNATIONAL®

Destination: MEXICO*...
STANDARD S&H - Ships within 1 business day via FIRST-CLASS PACKAGE INTERNATIONAL®

Destination: EVERYWHERE ELSE ON EARTH*...
STANDARD S&H - Ships within 1 business day via FIRST-CLASS PACKAGE INTERNATIONAL®

* International Buyers Please Note:
   •  You must include your phone # with payment. It is required for the Customs Form.
   •  Import duties, taxes and charges are not included in the payment you make to the seller.
   •  These charges occur after the sale, and are the buyer's responsibility.
   •  These charges are normally collected by the delivery agent upon your receipt of the item.
   •  Before you commit to purchase, check with your country's customs office to determine the amount of these additional costs.
   •  The seller has no control over these charges, or the transit time, or the customs processing time.
       Please don't let those factors diminish the Feedback and DSR you leave for the seller.



The S&H fee shown is for this item shipped by itself.
But, if you combine multiple items purchased from us into one payment & one shipment,
YOU'LL SAVE $$$ ON SHIPPING & HANDLING FEES!
Click here to see everything in our eBay Store.
At your request, or at the end of the day, we will send you
a combined-items invoice reflecting your S&H savings.
You may also inquire about the combined-items S&H Fee before you purchase!
Send us your Zip Code/Postal Code and list of items/quantities, and we'll send you a S&H quote.

***Best of all, S&H on this item could be FREE!!***
If this item is part of a combined order totaling over $35.00,
Shipping & Handling for USA destinations is FREE!!!

YOUR PURCHASE WILL BE PACKAGED PROPERLY FOR
SAFE TRANSPORT UNDER NORMAL CONDITIONS!
Our assurance is your insurance! If your item is damaged in transit,
please contact us immediately for a return/replacement authorization.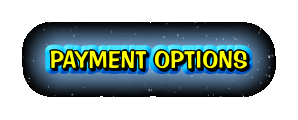 Credit Cards, Debit Cards, eChecks & Transfers are accepted through PayPal®.
Your credit card will be accepted even if you choose not to open a PayPal account.
PayPal—eBay's service to make fast, easy, and secure payments for your eBay purchases!
We prefer PayPal® for online payments!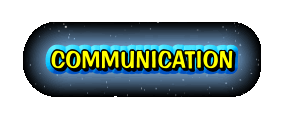 WHILE SHOPPING WITH US...
Ask questions BEFORE you purchase!
Email us through the
"ask a question"
link in the
Seller Information box
in the top-right of the item description page.
We make every attempt to reply to all questions within 24 hours.
WHEN PURCHASING FROM US...
We appreciate quick payments!
If this is the only item you're buying from us at this time,
simply follow eBay's CHECKOUT process.
BUT, if you're buying more than one item from us at this time, let us know when
you're done shopping, and we'll send you a Combined-Items Invoice.
This invoice will include the appropriate Reduced S&H fee you'll receive
for combining purchases into one payment / one package.
After we receive payment and have shipped your purchase, we will...
1-Leave Positive Feedback for you,
2-Send you an 'Item Shipped' email,
3-Provide your package tracking #
for access in your 'My eBay'.
AFTER RECEIVING YOUR PACKAGE FROM US...
Enjoy your purchase!
We guarantee the accuracy and safe delivery of your shipment.
If we've made a mistake, or if it is damaged in transit, please contact us immediately.
The problem will be remedied at no cost to you.
When satisfied with the transaction, a good way to let us know is via the eBay™ Feedback System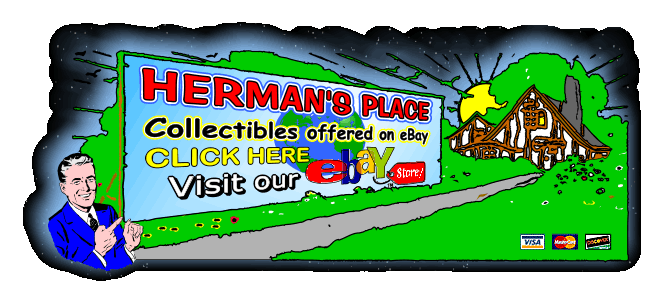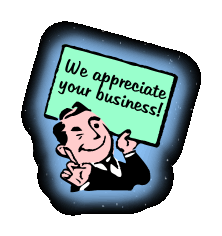 We hope you'll add us to your favorite sellers list.
We list many new items each week!

Herman & Eileen say...
ENJOY (and take good care of) YOUR COLLECTIBLES!
The design, textual content, photos, and graphic images used in the seller-provided portion of this web-page were created and produced by Herman Shilts, and are © Herman's Place. All rights reserved. Do not copy or repurpose without authorization. Commercial products featured in images and descriptions herein are ©, ®, ™ by their respective owners, and are imaged & presented within Fair-Use Guidelines. The site-framing at the top and bottom of this page is © eBay Inc. But, of course, you knew that.